Why you need a good Bushcraft Saw
Bushcraft saws are one of the mainstays of your bushcraft tool kit, and there are a few different kinds. The most popular are folding saws, bow saws, and bucksaws.
When you're looking for the perfect saw, you should consider two things: (1) the type of wood you'll be cutting, and (2) what size logs or branches you'll be cutting. Let's take a look at some of the different kinds of saws and how they can help you when you're out in the wild.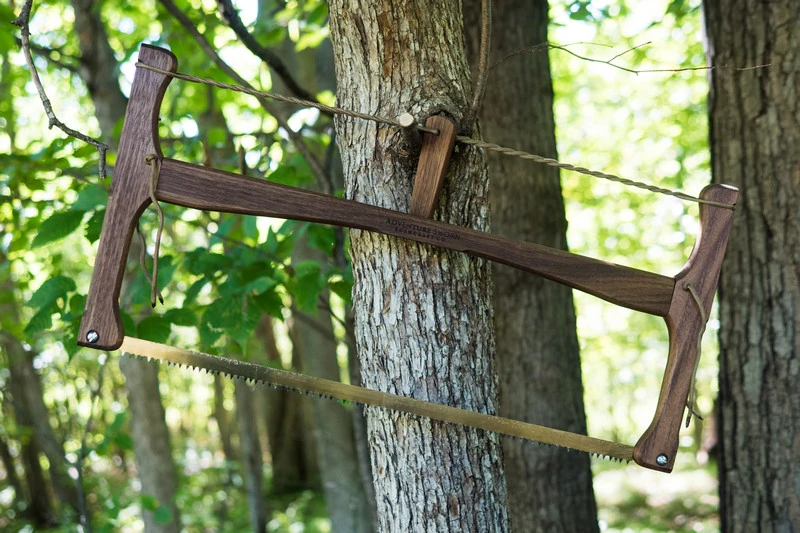 What Makes a Good Bushcraft Saw?
For bushcraft purposes, investing in well-made, durable tools is always high on the list of priorities; the last thing you want when out in the bush is to have a tool fail and break.
With this in mind spending some time researching various brands and looking at reviews can greatly help. I personally love the Silky brand of folding saws.
I find them extremely hard wearing and well-made, and I own them in many different sizes for the different bushcraft activities I get up to.
What Is the Best Bushcraft Saw?
Like most things to do with bushcraft it all comes down to personal preference and the types of activities you get up to during your bushcraft trips. If you like to make quick fires from dead branches from the forest floor that are under 3 inches in diameter, maybe a small folding saw or hand chainsaw would suit you.
If you're out to make a large bushcraft camp and intend to do extensive cutting work, then perhaps a buck saw or bow, or even a larger folding saw such as the Silky Katana boy, would suit you better.
Buck Saws / Bow Saws
What's the difference between a buck and a bow saw? A buck saw is basically an earlier version of the bow saw. It has a long blade set in a wooden frame. Unlike a bow saw, it has a 'H' frame rather than a curved (bow) one.
A bow saw is a modern metal-framed saw in the shape of a bow with a coarse blade. This saw type is also known as a Swede saw or Finn saw. It is a hand tool that can be used for cutting branches up to six inches in diameter.
A buck saw is a two or one-handled saw with a blade that is held taut between the two handles. The blade is attached to one handle by a vertical pin (known as a "spindle") and attached to the other handle by a vertical pin at the bottom of the blade.
Buck/bow saws are a common tool used in bushcraft. You can find bushcraft saws like these regularly available, though the quality of them will vary greatly depending on the brand.
The best blades for buck/bow saws are made from tempered steel that has been coated with chrome or nickel plating to prevent rusting. The handles should also be made from durable materials and have comfortable grips on them; you don't want to risk hurting your hands when using these tools!
The most common use for buck/bow saws is cutting wood, but they can be used for many other things as well, such as cutting metal and plastic using blades for those materials.
Folding Saws
Folding saws are designed for fast, easy cutting of small trees and branches that are 4 inches in diameter or less; however, there are now models on the market that can cut larger branches if needed. With a flexible blade, you can cut at different angles and depths depending on the job at hand.
When it comes to buying a folding saw, consider what you will use it for most frequently, as well as how often you will use it. If you plan on using your folding saw frequently and carrying it with you at all times, consider purchasing one that is lightweight but still has a strong blade.
Lightweight folding saws tend to be thinner and less durable than other options, often with a tendency for the tip of the blade to break off. Some models may include features such as rubber grips or rubber-clad handles to make them easier to hold, which may make them more comfortable to use.
Hand Chainsaw
Designed with lightweight portability in mind, the hand chainsaw is great for camping, hiking and other outdoor uses.
The hand chainsaw is a small hand-operated saw that can be easily carried in a backpack. Ideal for cutting small trees and branches, the hand saw is a valuable addition to any camping expedition.
It can be tricky to get the knack of using these hand held chainsaws but once mastered they can be a very useful tool to keep in your pack.
As with all things bushcraft, to make the saw you purchase work for you and your environment, it's good to take time and pick the one that's just right for the sort of activities you get up to on your bushcraft trips. An item chosen like this should last you a lifetime.