What makes a good Bushcraft Knife?
Having a good bushcraft knife that holds up to the elements is an absolute necessity for spending any amount of time in the wilderness. A well-chosen knife can also replace bulky tools if going on a light day trip, or when travelling light is important. Although having the right tool for the job is valuable, especially when it comes to bushcraft, the bushcraft knife is probably the most versatile tool in your kit.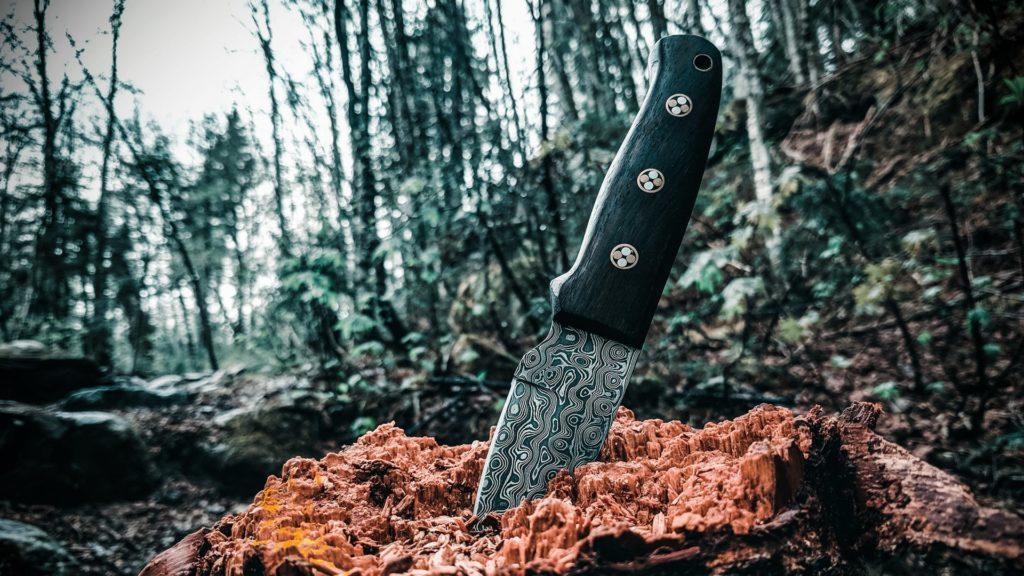 What's the Best Bushcraft Knife?
The simple answer is there is no best bushcraft knife. The environment you find yourself in will dictate what makes the best bushcraft knife for that situation. Spending time by the ocean where the water has high levels of salt, a carbon steel blade will corrode quickly. In a rough, rocky environment, softer steel would be best suited as opposed to the hardest steel blade. This is because a softer blade would be easier to repair if you drop it and it gets a ding, and there is a smaller risk of chipping the blade.
Anatomy of a Bushcraft knife
Pommel
Handle
Rivets
Choil
Primary Bevel
Secondary Bevel/Edge
Tip
Hilt
Spine
Blade
What to look for in a Bushcraft Knife.
Everyone's different, and we all want something slightly different from a bush fact knife. Here are a few things to consider:
Size
Blade Style
Blade Grind
Blade Material
Handle Material
Full Tang
What Size Bushcraft Knife?
When it comes to bushcraft knives, bigger is not always better. If you're planning on adventuring in a very thick bush, carrying a machete alongside a bushcraft knife makes more sense. On the flip side, if you don't plan on carrying an axe, you'll want your bushcraft knife to be long enough to baton through larger logs. Ultimately choosing the size will depend on the environment you'll spend the most time in, and the activities you anticipate you'll be using the knife for.
Bushcraft Knife Blade Style
A bushcraft knife should have a long flat cutting edge that comes up to meet the tip, roughly centred to the width of the handle and your grip. The curve towards the tip should be somewhere between pointed and rounded.
Having a flat blade on your knife makes chopping, battening and cutting with force from your fingers and thumbs a lot easier. A flat blade is also not bad at slashing, should you need to do that. Having a centre point on your knife makes it very versatile especially when using your knife to drill and hollow things.
Because the tip of your bushcraft knife will be used the most, it needs to be wide enough to be strong and fine and sharp enough to be functional.
A good bushcraft knife is a jack of all trades and a master of none, but so much better than a master of one. Carving, skinning, digging, harvesting, and preparing food are just a few of the chores you will undertake with your new bushcraft knife, and it should do a fairly good job at all of these.
Ultimately, the best designs for bushcraft knives are the spear point or the drop point.
Bushcraft Knife Blade Grind
The blade grind defines how the blade has been shaped on its Edge. Some have a primary and a secondary bevel, while some have a single bevel.
These are the most popular bushcraft knife grinds:
Flat
Cutting performance with a flat grind knife is very efficient. You can have a thick spined blade that cuts just as well as a thin blade with a flat grind knife. However, because the edge is so thin it does tend to have reduced durability. It's a lot easier to roll or damage the edge of a flat grind bushcraft knife. Therefore, it should be used for lighter camp tasks only.
Scandi
Scandinavian grind bushcraft knives are considered to be the most versatile of all the grind types. This is because the grind type allows this knife to do numerous types of cutting tasks very efficiently and it is easy to sharpen. Scandi grinds are great for heavy-duty wood processing as well as finer carving projects. They are considered the all-rounder when it comes to bushcraft knife grind types and my personal favourite.
Hollow
The hollow grind type is really the cutting champion when it comes to bushcraft knife grind types. It's unmatched in its sharpness and ability to skin an animal and process food. The downside is that the edge is so fine it's really not up to the task of doing anything more heavy-duty than that. If you start batoning wood with a Hollow Grind type, expect your edge to take a beating.
Convex
Because the convex grind arcs down from the spine of the knife it retains much of its thickness throughout the blade and this reinforces the cutting edge. The downside of a convex grind is it is one of the trickier grinds to sharpen due to its curved contour.
Bushcraft Knife Cutting Edge
The rule of thumb here is the larger the cutting angle or cutting edge, the stronger but duller the knife. A large cutting edge is great for batoning wood and other heavy-duty tasks.
On the flip side, a finer cutting-edge will be sharper but more fragile. A fine cutting edge is perfect for preparing food, skinning game, and carving.
A secondary bevel creates a large angle and consequently a duller but stronger edge on the knife. A single bevel knife, however, is easier to sharpen in the field. A dual bevel knife requires more precision to sharpen well.
Bushcraft Knife Blade Material
There are many different steel options for bushcraft knives, each having its own unique heat treatments and characteristics.
Stainless Steel:
Pros:
corrosion resistance
Easier to Sharpen
Cons
Softer steel means sharpening more often

Carbon Steel/Alloy
Pros:
Cons:
Will corrode and pit if exposed to moisture
If chipped or dulled, it's harder to sharpen
Ultimately there's no right choice here, it's up to you to decide which type of steel best fits your environment, and personal use case.
Bushcraft Knife Handle Material
You have a few options as far as handle-material goes. If you value the aesthetic appearance of a knife, choosing a bushcraft knife with a wooden handle will probably give you great satisfaction at the cost of durability.
A lot of more modern bushcraft knives have micarta handles which are made of a phenolic resin impregnated paper or fabric layered and cured under high heat and pressure. You can find bushcraft knives with micarta handles in many colours.
One absolutely paramount feature of a bushcraft knife would be that it has a full tang.
This means that the knife steel runs the full length of the knife from the point to the pommel. This is important because a bushcraft knife will be susceptible to heavy usage when splitting firewood or chopping, and without a full tang that knife is susceptible to breaking at its weakest point.
Never use a folding knife as your primary bushcraft knife.
There is one exception to this rule in the case of the mora knife or morakniv. It has a long track record of being a very durable knife and on long trips, it's my backup knife of choice. Its affordability is unmatched for what it can offer.
Stay away from any knives with gadgets or gimmicks like saw blades or double-sided blades. If you are looking for a saw, there are many bushcraft saws that are lightweight and will easily fit in your pack. We have always had great success using the Silky brand.
1. Affordable - Moraknife Companion HD
While I still think Moraknifes standard companion would be the best choice for most beginners, the effectiveness of the HD companion can't be disputed. This is without a doubt the best budget bushcraft knife on the market in 2022. Everything it lacks in agility, it makes up for with well-rounded capabilities.
Pros:
Affordable
Versatile
Keeps its Edge
Cons:
Fairy Lightweight
Difficult to Sharpen
2. Versatile - Fieldcraft by Brothers of Bushcraft (B.O.B)
Choosing a bushcraft knife is like choosing a partner. It's very personal, and everyone's looking for something slightly different. Weighing up your environment and jobs that you'll be using the knife for should help dictate what kind of steel, edge, and handle you're looking for. Hopefully, this guide helped you refine your choice.