If you are anything like me, then taking some time out of your busy schedule and spending time in nature is a real treat, and getting out and honing my bushcraft skills is right at the top of the list.
One thing that I always try to explain to students is the importance of keeping their skills sharp. It's great to come and spend five hours learning knots, but if you don't practise those knots in the weeks after, that knowledge will slowly slip from your mind.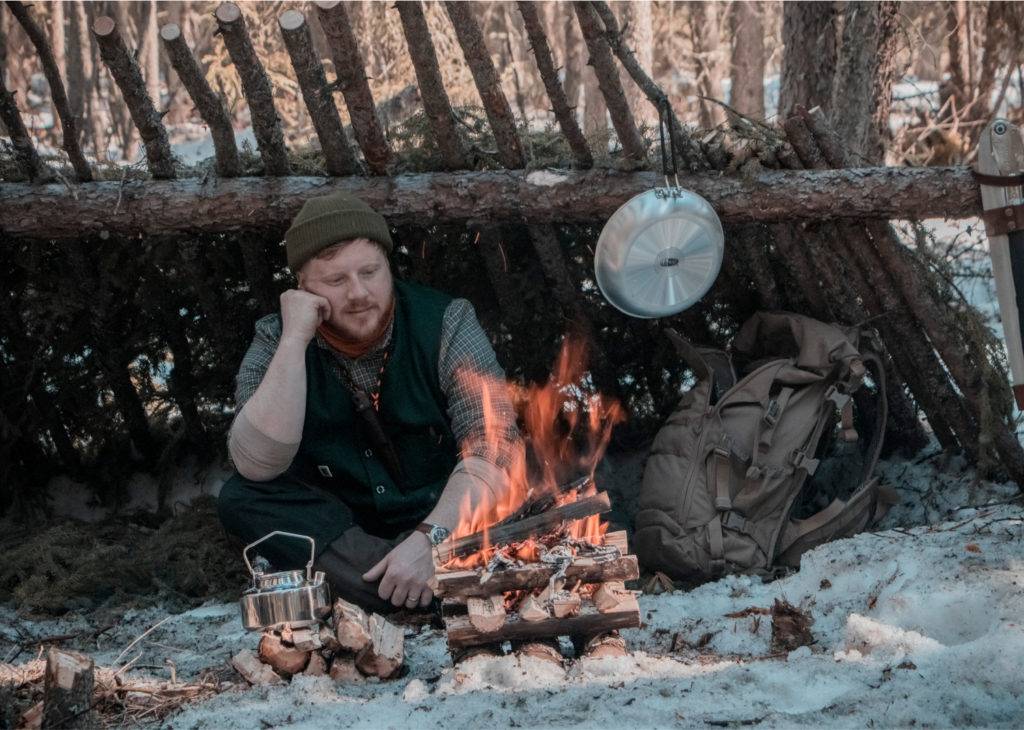 This list is in no particular order, these are all things that would be great to get to know better if you enjoy learning new bushcraft skills.
1. Making Natural Cordage
Making natural cordage is a great way to get outside and enjoy the beauty of nature.
The process is simple but does take some practice. All you need for materials are fibrous plants or animal sinew and time.
Depending on how much cordage you want to make, it can be time-consuming, especially at first.
But with practice, it can become a satisfying pastime. The most popular materials for making natural cordage in the boreal forest include spruce roots, the inner bark of most trees, milkweed and grass.
These natural cordages can be used in multiple ways from simple lashings to fishing lines – the possibilities are limited only to your ingenuity. Natural cordage, in my opinion, is an essential bushcraft skill.
Do you ever wish you knew if you could eat that delicious-looking berry that you came across while bushcrafting? Me, too! Although it can take some time to start to recognise different plants, it is very satisfying when you can identify them in your environment.
Knowing the different medicinal properties or practical applications is also a very useful skill to develop. Knowing if you can brew a delicious tea or if it's the perfect material to get a fire started, this knowledge can be the ultimate bushcraft skill.
Besides, knowing what not to eat can be equally as useful! To help you get started, Edible and Medicinal Plants of Canada is a great resource and well worth a read.
3. Primitive Fire Starting
When you're out bushcrafting, fire is one of your best friends. It's not just for keeping warm – it can be what keeps you alive. You can cook on it, keep predators away from your camp, and signal for help if you need it.
If you're planning on surviving without modern comforts, learn how to start a fire without matches or lighters! One of the most popular methods is commonly known as a friction fire or bow-drill. This method, as the name suggests, relies upon using the friction from rubbing two dry materials together rapidly in order to create an ember that can be gently coaxed into a flame.
With proper preparation and care, this is one of the most satisfying bushcraft skills you will ever learn.
If you like to spend time bushcrafting and, in particular, off the beaten path, learning how to orient yourself quickly and correctly using the natural surroundings could potentially save your life – or at the very least, a lot of time.
If your compass or GPS is broken, lost, or has run out of power, wouldn't it be nice to confidently be able to look towards the sky and the landscape and find some signs that would help point you back on track?
From the sun and stars to natural landmarks, your surroundings contain many clues that you can learn to read. I can highly recommend the book The Natural Navigator by Tristan Gooley. It's packed with tips, tricks and useful information to keep you on the right path.
When on a bushcraft trip, I am constantly switching between my three favourite tools: my knife, my axe and my saw. These three tools are like the holy trinity of the bushcraft world, and getting well versed in their use and application is a fantastic way to spend your time.
As the saying goes, "Practice makes perfect" and never has it been more true than with these three tools. With constant use, you can learn to master these tools, and become confident in your abilities. From preparing firewood to creating shelters, these tools will do it all. Get out there, stay safe and have fun.
When it comes to bushcraft, there are endless skills you can go out and practice, and these are just a few of my favourites. If you are new to bushcraft, I can highly recommend the book Bushcraft by Mors Kochanski. This is a must-own book for anyone interested in the field. Mors was a pioneer in the world of bushcraft.
His enthusiasm, clear instruction and easy to understand diagrams are a wonderful aid for all those looking to get into bushcraft and the great outdoors.